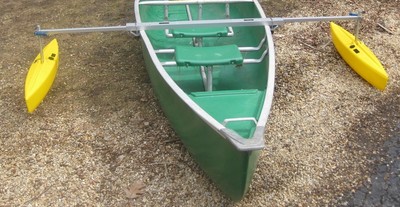 Canoe Stabilizers - Streamlined Pontoon Outriggers Stop Capsizing - Yellow 45"
Condition:
New
Time left:
13d 14h 21m
---
Shipping:
FREE
Location:
Boxborough,MA,USA
Item Details
* Seller is responsible for the item details.
These streamlined canoe stabilizers will help keep you right side up on the water and create minimal drag and splash.     Because of the leverage of long arms that hold the pontoons out away from the sides of the boat, these floats make a tremendous difference to your stability.   Because of their streamlined hydrodynamic design and sturdy construction, they are suitable for motoring and sailing.
This listing is for stabilizer with YELLOW floats.  Other SailboatsToGo Ebay listings offer the other colors.
They adjust in and out and up and down.   The up/down adjustment is by a convenient over-center cam lock .   The in-out adjustment is by a spring button.
Quality materials:   Made in USA, Anodized marine aluminum, stainless steel hardware and floats are made just like kayaks -- roto moulded cross-linked polystyrene.  Warrantied against leakage and other defects for 5 years!
We have been selling these for 7 years and our customers love them.  
Ebay feedback:Awesome can stand and fish while trolling. A must.Buyer: skinshovel ( 52) Jun-04-14 03:59 Canoe Stabilizers - Streamlined Pontoon Outriggers Stop Capsizing - Red 45" (#121315301600)

Attachment to the canoe requires no tools and is fully adjustable and quick.     The cross bar (the rectangular aluminum extrusion that the float arms slide into into) is about 45 inches long.    The gunwale clamps can be positioned anywhere along the crossbar to align with the gunwales of your canoe.  If you want a shorter or longer crossbar, we can provide it upon request.  But this  size will fit any canoe  because the clamps slide anywhere along the crossbar to align with the canoe gunwales, no matter how wide or how narrow the canoe is.
Free domestic shipping to lower 48 states!
This listing is for YELLOW but we also have red, gray and mango (see other listings)
We are SailboatsToGo, LLC and we are passionate about customer satisfaction.  Please view our Ebay feedback!
Go to Top